At Adaptation Supplies Ltd we supply mobility bathroom equipment for care homes and other residential care facilities across the UK.
We work with the top brands in the industry to supply quality equipment at a great price. No project is too large or small.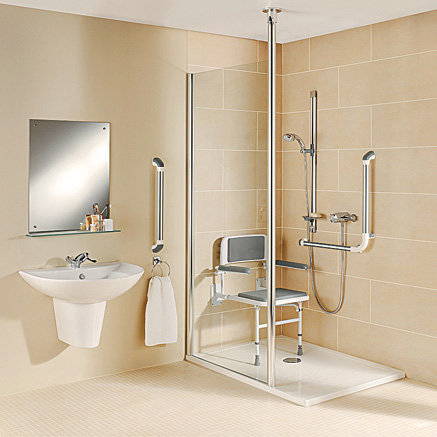 Adapted Bathrooms: On Time & In Budget
We specialise in supplying bathing equipment for large contract residential care builds and adaptations, which enable our clients to create optimal bathing environments for their customers and staff.
Care home bathrooms designed, supplied and installed
Working with our installation partners we design, project manage and install bathrooms for care homes and other residential care facilities.
How to Plan Adapted Bathrooms for Care Homes
Whether you are planning a new care home or making renovations to an existing one, planning adapted bathrooms is one of the biggest challenges. For the elderly and people with conditions such as arthritis, dementia or mobility impairment, the bathroom can pose the biggest challenge.
So what areas need to be considered to plan adapted bathrooms for care homes to create a safe and comfortable space?
Start with the major areas
The first areas that you want to consider are the key parts of any bathroom - toilets and basins, showers and flooring. Some bathrooms may need a bath adding, depending on the needs of the people who will be living there.
Most standard toilets are a similar height, but the addition of a toilet plinth can raise the height for those who struggle to get up and down onto a standard height toilet. There are also low-level versions of toilets available if needed. It's important that the height of the toilet should be comfortable for people to use and make it comfortable for residents to use.
It can be worth going with styles that have recognisable handles to flush rather than infra-red or other newer adaptations. This helps people remember what the function is for and avoids confusion.
With basins, again choose styles of tap that are simple and familiar as well as being easy to use. Lever styles are one great example that doesn't require a lot of grip to turn. Also, consider flood proof plugs that automatically pop up if the tap isn't turned off and the basin is full to avoid overflowing.
Aim to have somewhere simple to keep a toothbrush and toothpaste on the basin and somewhere for soap.
If the toilet and basin are open plan in the room as opposed to en-suite style, make sure they are easy to access from the bed.
Showers and shower enclosures
Showers are definitely the preferred choice when it comes to bathrooms for care homes as they are safer and easier to use for residents and for staff. Good quality showers such as thermostatic mixer showers allow the easy regulation of the temperature and flow of the water so it is always comfortable. Plus the controls are familiar so there's less chance of confusion and accidents.
Some residents may find overhead deluge shower heads to be off-putting so it can be best to avoid these.
Some showers will automatically shut off after 30 minutes and these can be ideal for residents with conditions such as dementia who may forget to turn it off.
Shower screens are important for privacy but can also be a trip hazard, so ensure you use specially designed shower screens for mobility bathrooms.
There are three main options when it comes to shower screens for care home bathrooms:
● PET plastic safety screens - thee are clear so can be seen through but are a softer material than something like glass so if someone falls against them, the impact won't be as painful
● Frosted plastic screens - these offer a little more privacy although residents with conditions such as dementia can find them confusing
● Shower curtains - use breathable fabric that is a bright contrast to surrounding areas so it is easy to see
Shower screens can be full height or half height and can open in a variety of ways to make accessing the shower simple. A combination of a half height screen with curtains is also another option to consider.
Bathroom flooring is important, whether the bathroom will be a wetroom style or self-contained. Non-slip flooring is the most important consideration as this cuts out the need for bath mats which can be a trip hazard.
Aim to have contrasting colours to the walls and that all the bathroom floor is the same colour. If you have residents with dementia and similar conditions, think about avoiding dark colours that can look like holes or sparkling effects that can cause confusion.
Other adapted bathroom considerations
Once you have covered these main considerations, there are a few other areas you'll want to think about when planning an adapted bathroom.
Ensuring the room is well lit is important but aim for natural styles of lighting as sometimes elderly people may be sensitive to bright, harsh light. Try to use lighting in pairs to stop shadows that can cause confusion and add task-focused lights over the basin, toilet and the shower.
Think about using low surface temperature (LST) heating so that if someone trips and puts their hands on the heater, there's less chance of a burn. Cover pipework as this is often very hot to the touch.
You may even want to think about underfloor heating if the renovation is major or a new build care home. This ensures the room is heated but all of the heating elements are out of sight and reach.
Tiles on the walls protect the walls and make it easy for staff to clean. Avoid white tiles if possible as this often seems too much like a hospital for many elderly people.
You may also want to avoid patterns and three dimensional representations of things on the tiles as this can cause confusion or disorientation.
Bathroom accessibility accessories
The final area to consider is the accessibility accessories you can add to the bathrooms to make them even easier for elderly residents.
Top of the list is grab rails which can be placed near toilets, basins, showers and even at intervals around the room. These help people to move with confidence or steady themselves if they feel shaky.
Shower seats come in different styles and can easily fold up when not needed. But they are a great way to give legs a break while having a shower.
Preparing for residents' needs
By taking steps to prepare for residents' needs when planning bathroom areas, you can reduce the risk of accidents and make everything more comfortable for both the residents and staff caring for them. By offering them the most possible dignity in this area, you can help them cope with whatever conditions they have or simply feel more at home.